Beautifully Designed for Resin Art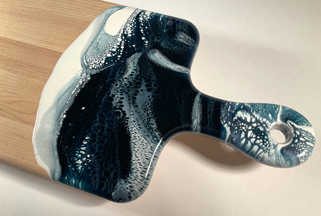 These cutting boards are beautifully designed and made for resin art. The boards come with rounded corners and edges so that epoxy does not runoff when trying to cover them. This makes the board much easier to work with compared to traditional cutting boards. After decorating they can be used as accent pieces or be used as a table setting.
We Are Canada's Largest Supply of Resin Art Cutting Boards
No other company in Canada has a larger selection of resin/epoxy art cutting boards. We offer a wide range of cutting board styles to meet your needs. These boards are carefully designed with the crafter in mind. They are easy to work with and make a wonderful addition to your crafting hobby.
Made in Canada From Canadian Maple
These highly attractive cutting boards for resin art are made right here in Canada from 100% Canadian maple. This ensures that each board you purchase will be of high-quality and last you for many years to come. Canadian maple wood is the perfect material for cutting boards because of its texture and its durability.
Great for Gifts
Looking for a gift for that hard to shop for relative? Need something for the chief in the family? Our resin/epoxy art cutting boards make the perfect gift.
From corporate gifts to gifts for the family, our boards are the smart choice. Mothers, brothers, aunts, and uncles will all love the gift of a cutting board. Our boards are useful and come in many different designs.
We Offer Wholesale Pricing
If you have a large resin art project planned, or you want to make resin art boards for the entire family, we offer wholesale pricing. The more cutting boards you buy from us, the more you save! This is perfect for churches, art centers, schools, or anyone needing a larger volume of cutting boards. Our wholesale lots start at just 24 cutting boards, but we have plenty more if you need them. We are one of the largest suppliers of cutting boards in all of Canada.